Ok, so you're an expert at the basics of small business emails. But what about emails for lead nurturing? You know, follow-up emails. Or, maybe more difficult to master, warming up cold email leads.
If you're reading this section, your follow-up emails probably aren't working the way you want them to. If you're using trust hackneyed phrases like:
"I just wanted to check in…"
"Just following up on our conversation…"
"I wanted to circle back…"
… you're going to want to keep reading.
These kind of follow-up emails are robotic, uninspired, and void of value to the prospect (especially those cold leads).
Plus, they make you look like this:
(fun fact: the picture was categorized: overly attached girlfriend .. do you see the resemblance? )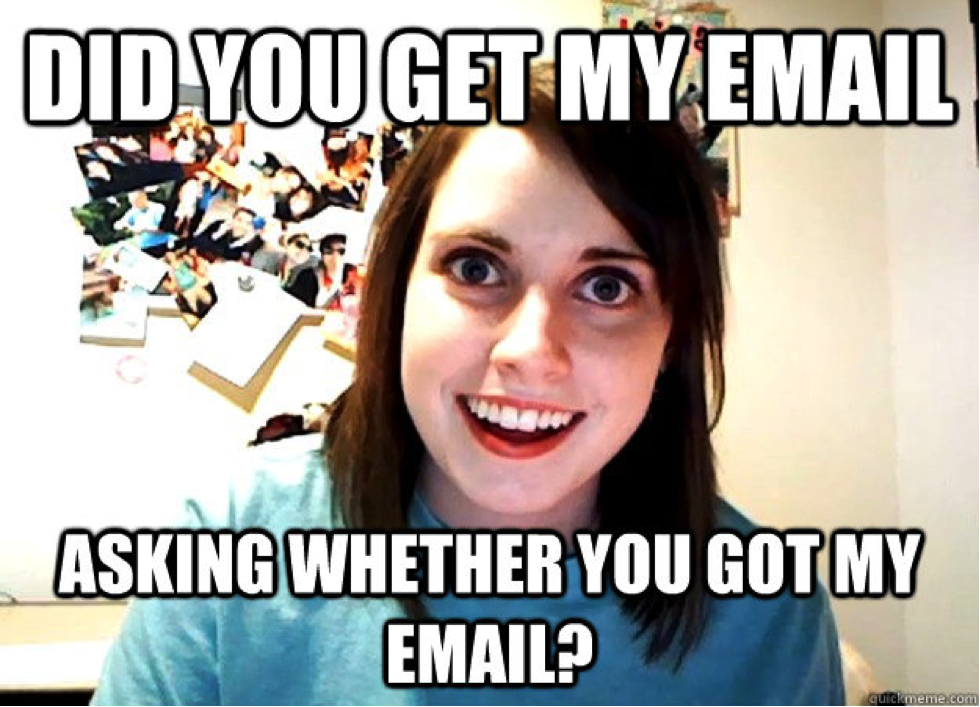 Lead nurturing is not about "checking in" or "touching base." It's about offering prospects something of value with every connection.
Something to keep in mind:
Inboxes are doorsteps: Knock at the right time with the right message
It's 6:30 a.m. Gary's alarm clock is sounding. He sits up, rubs his eyes, and picks up the smartphone by his bedside.
Gary opens his email app and looks at the dozen messages he received overnight. A few are promotional. They take a backseat to those work emails he received and the one or two personal notes that arrived.
There, in that bleary-eyed state, Gary opens the front door to his inbox for the first time of the day. He'll do so again and again throughout the day. The door knocking never stops.
Knock, knock, knock.
Would you like a moment with Gary? Get in line, and make sure you show up at the right time with the right words. Do you think he's going to get excited by seeing "touching base" pop into his inbox? Will he stop what he's doing and reply to such a message? Don't count on it.
Now here are 4 tips for writing a sales follow-up email that actually gets results.
Prick the pain and provide immediate value
Your prospect has a pain of some kind, and your product is the solution. Remind them of that pain out of the gate and also remind them that you're the best solution to solve that pain.
Only you can determine the best way to do this, and it depends on your buying cycle. It can take the form of sharing a valuable article or e-book. It could be a case study showing how others have benefited from your product. Or it could be a discount or free consultation. Whatever it is, it must remind them of their pain and provide immediate value related to that pain. Otherwise, you're wasting everyone's time.
Use data to back up your claims
Here's a hard truth: people distrust salespeople. They think you'll say anything to make a sale. And, unfortunately, some people will. That's why data gives validity to your claims in a big way. Whenever you can, share case studies, research, testimonials, and more to build trust.
Avoid typos
Typos are easy to make and hard to recover from. They make you look like an amateur and, believe it or not, can be the one overlooked the detail that sinks a sale. Write like a pro by making sure your email copy is error free. Have a colleague read the email over. Also, take advantage of services like Grammarly, which go way beyond your word processor spell check.
Make your emails really shine with these email design best practice
While we'll always stick by our word that the subject line and body of your emails are the most important components to getting the right message to the right recipients, the design of your emails is going to be what really helps bring your emails out on top in the battle of the inbox.
There's stiff competition for the inbox, and you've got to stand out if you're going to catch your recipient's eye. By far the biggest competition in the inbox is spam. According to Semantec, "Spam represents as much as 75 percent of all email sent across the internet." More than anything, you don't want your email to be perceived as spam.
While that sounds a little bleak, the really good news is that when you get your design right, your recipients will actually look forward to getting your email and they'll seek your email out in their inbox.